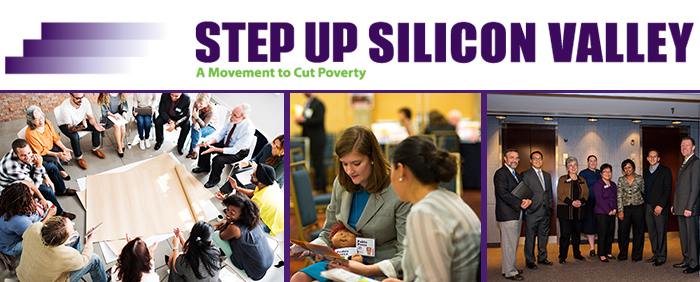 Step Up Silicon Valley is a movement to cut poverty and increase economic opportunity in Santa Clara County. Led by the county's nonprofit, public, and private sector leaders, this movement seeks to nurture cross-sector conversations, collaborations, and solutions in service of disrupting the systems that cause and perpetuate poverty.
We combine our three strategies of convening, advocacy, and systems change incubation through our various initiatives. Through cross-sector collaboration, we leverage the resource of our partners and network members to launch initiatives that are groundbreaking and disruptive in order to find new, innovative ways to stop the cycle of poverty.
MISSION
We seek to transform community awareness and generate the political will to create systems change that enables individuals and families to step up out of poverty in Santa Clara County.
VISION
Our goal is to reduce poverty and to increase economic opportunity in Santa Clara County. We are committed to creating a community that is thriving and self-sufficient; where everyone has access to affordable health care, sufficient nutritious food, decent affordable housing, meaningful educational and career opportunities, and reliable income that meets their basic financial needs.
convening & advocacy
We connect diverse partners to share knowledge and foster collaboration.
We generate and support action at all levels to disrupt systems that perpetuate poverty.
SYSTEMS CHANGE INCUBATION
We launch innovative initiatives to eliminate poverty.
OUTCOMES MEASUREMENT
We measure poverty reduction through a common measurement system, the Step Up Self-Sufficiency Measure.